November 11th, 2014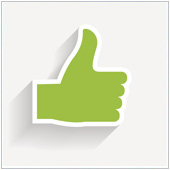 Change is a constant process with Facebook and most of the time it's for the better. Earlier this year, the social media company announced some pretty big changes to the Graph algorithm that powers search results. One of the more important changes companies with Facebook Pages need to know about centers around the way Likes can be used. In short: forcing people to Like your Page to gain access to content - a practice called Like-gating - is no longer tolerated.
Like-gates to be left open
In the past, it was a fairly common trend for businesses with Facebook Pages to limit the access followers had to their Pages or other information and campaigns. One of the most popular examples of this is if having to Like a company to enter a contest with them.
Read more.