December 9th, 2014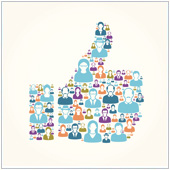 For many business owners, Facebook is both a blessing and a curse. While it is a great way to connect with customers, it can also be a major distraction for employees. Let's face it, Facebook is here to stay, so there's no getting round that, but there could be a way of stopping the social media site from being a negative in the workplace. The company has just announced that they are working on a new social network, potentially called Facebook at Work, which will be aimed specifically at businesses.
What is Facebook at Work?
In late November, Facebook announced that they are developing a new social network which may be called Facebook at Work. As you can guess by the clue in the title, this is going to be a business-oriented venture that will bring the popular social network, or elements of it, to the workplace.
Read more.